Is it time to start looking for a home for sale in St. Clair Shores MI? If you've always dreamed of owning a bit of music history, the home of Rock 'N Roll Hall of Fame inductee Patti Smith is now up for sale in St. Clair Shores, Michigan! The home, a unique castle-like Tudor-style structure situated on a canal leading to Lake St. Clair, is where Smith and her husband, the late MC5 guitarist Fred "Sonic" Smith, lived when they wrote the album "Dream of Life."
While the two-story home for sale in St. Clair Shores MI is not necessarily ostentatious or overbearing, it offers many unique features both inside and out. The structure boasts two turrets, one in front and one in back, along with arched wood entryway doors featuring oversized hardware reminiscent of an ancient castle. Inside, the home has a hidden staircase behind a built-in bookcase, much like you would expect to see in the movies!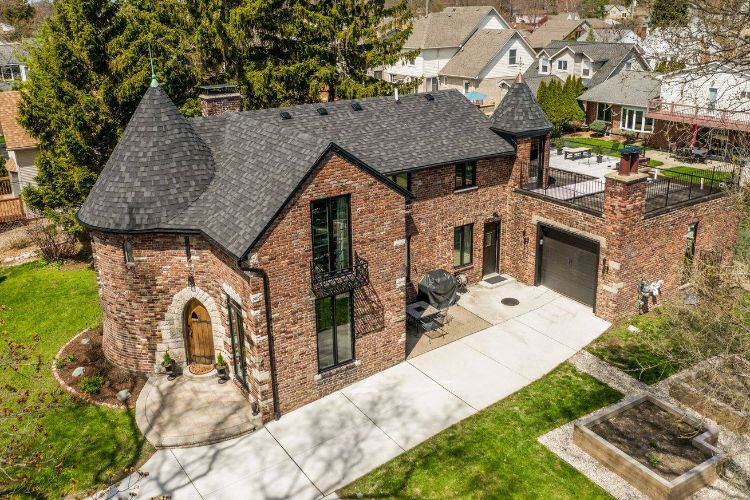 Those stairs lead to an underground room outfitted with authentic brick walls and wood floors. It's believed the space may have served as a hiding place during Michigan's prohibition era, as there are still wire racks for cots that were no doubt used for fugitives at the time. Today, the room is kept as a wine cellar and tasting room.
The home's gothic-like features are also displayed in its peaked windows and tightly curved metal staircases. Stone and wood floors inside the house maintain its authentic, historic look and feel, while outside, the home is situated next to two open lots, one of which offers thick trees and a fire pit perfect for relaxing. Just a stone's throw away from Lake St. Clair, the house is built on a canal and has its own boat dock, as do all homes in the surrounding area.
While the home is being represented by Smith's son, Jackson, it has not been in the family for many years. Smith moved out of the house after her husband died in the mid-1990s, although retaining ownership of it until 2013. The new owners updated the home with some modern amenities, including a five-burner gas stove and apron sink, while doing all they could to maintain its original look and charm. Mosaic floors were replaced with similar stone, and new windows were designed in the original arched gothic style. After all, renowned photographer Annie Liebovitz used the home as a setting for photographing Patti back when she owned the structure!
Find a Home For Sale in St. Clair Shores MI & Take Advantage of Our Services!
ProClean Pressure Washing Royal Oak is proud to call the St. Clair Shores area home and proud of the work offered by our St. Clair Shores power washing contractors.  At ProClean Pressure Washing Royal Oak, we bring over 20 years of experience in the exterior house washing industry to every property we service and know that customer satisfaction is job one.
Our expert, thorough power washing of your home's exterior, roof, and windows will remove bothersome debris left over from harsh Michigan winters and keep your home looking its best through the beautiful summer months. Whatever your needs for St. Clair Shores pressure washing, give the experts at ProClean Pressure Washing Royal Oak a call! Rest assured if you're looking for a home for sale in St. Clair Shores MI, even if it's not a previous property of someone famous, you're on the right path to your forever place of residence.