Consistent, professional window washing cost in Royal Oak is an investment in your home's overall appearance and helps to preserve the condition of a structure's windows, screens, and frames. Regular window cleaning protects exterior glass from long-term damage while also allowing for a beautiful view to the outside of your home and fresher, cleaner air inside as well!
Most professional window cleaning companies in Royal Oak charge a flat rate for cleaning each window pane. National averages run from $2 to $7 per pane. A full house window washing cost might average just over $200.
Never overlook needed window washing of a residential home in Royal Oak, as well as window cleaning for a storefront or office. To ensure you make the right choice and invest in window washing as needed, consider what's often accomplished by a window washing contractor near Royal Oak and why it's good to schedule this service regularly.
What Is Included In Window Cleaning Costs?
Every Royal Oak power washing contractor will decide on their own rates and how they charge their clients, but note some common factors that might be considered when figuring window cleaning costs:
Are your windows easy to access or are they hidden behind very close fences, tall and prickly shrubs, or overhanging tree branches? Some window cleaning contractors might charge more money for certain windows if they need to work their ladders and equipment around these obstructions.
Not all residential power washing companies will charge extra for especially filthy exterior walls, roofs, and windows, but some might add charges for windows caked with layers of mud, sand, cobwebs, and the like.
A window washing cost might be based on an average-sized double-hung window. A power washing contractor in Royal Oak might charge more for oversized bay or bow windows, expansive picture windows, and other unusually large windows.
Sliding glass doors might be charged at a higher rate than standard window panes, as these doors are larger and oftentimes covered with thick dirt and grime that's especially challenging to clean.
Many window cleaning services in Royal Oak include cleaning the screens and surrounding window frames, but be sure you ask about this when scheduling residential window washing. Clean screens allow in fresh air during summertime, but never assume screen cleaning is included in a power washing contractor's costs.
Specialty stains, such as hard water or pool water deposits, pet waste, paints and other coatings, and other such materials might incur added cost for cleaning. Graffiti or something written on windows with permanent markers and other such marks might also incur added costs for cleaning.
Interior window cleaning of a Royal Oak home might be charged separately and is often at a lower cost than exterior cleaning, since interior glass is more accessible and typically cleaner than outside windows!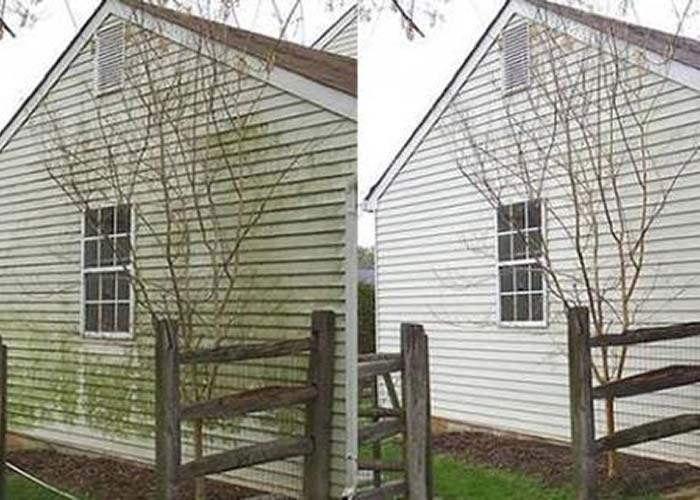 How Often Should Windows Be Cleaned in Royal Oak?
Regular, professional window washing of a Royal Oak home removes thick dirt and grime that scratches exterior glass. The longer you avoid scheduling a visit from a window washing contractor, the more damage to your home's windows! Annual visits are often recommended for residential window cleaning in Royal Oak.
It's also helpful to schedule residential or commercial window washing in Royal Oak after harsh storms or especially long winters. Heavy rains and snowstorms deposit thick dirt, mud, grit, grime, acid rain residues, and other abrasive debris onto exterior window glass. A professional window washing contractor in Royal Oak ensures that your property's glass is protected from this damage, and clean windows mean a better view to the outside after the storms have passed.
Commercial window cleaning in Royal Oak is needed more often, to ensure your facility looks clean and welcoming to customers and visitors. Restaurants and diners especially need to maintain a sanitary appearance, and regular storefront window washing ensures that customers can readily see inside your store, encouraging them to step inside and shop! At the very least, first-floor windows of offices should be cleaned consistently, often monthly or even every other week, to keep your business looking its best.
What Is the Best Window Cleaning Equipment?
Homeowners often assume that they can rent or buy power washing equipment and manage their own window cleaning, but this can be a mistake. Note why it's good to always call Royal Oak pressure washing contractors or window cleaners for your needed exterior cleaning instead:
Daytime window washing allows water and detergent to dry against exterior glass, leaving behind dirty streaks and water stains. A professional window cleaning contractor knows the best way to ensure all water and residues are removed thoroughly.
Specialty techniques are used to clean especially filthy windows and residues like hard water stains, gritty sand, and so on. Without proper training and experience, you might simply waste time or damage your home's windows trying to get them clean!
Window glass is not always as strong as you assume, and residential or commercial windows can shatter under too much pressure from power washing equipment. Improper use of pressure washing equipment can also etch and scratch wood window frames, sills, flowerboxes, and other items, and bend or outright shred window screens.
Window washing is often more of a workout than homeowners realize. Even with commercial-quality power washing equipment, it's still necessary to reach and stretch while using this equipment, and some physical dexterity is needed to keep it under control. Call a window washing contractor near you to avoid injury and overexertion!
Being on a ladder while trying to use and control pressure washing equipment is very dangerous and can result in falls. Splashing water and detergents in your eyes can also cause serious injuries.
Window washing also takes more time than many homeowners realize, and especially if you need your home's window screens cleaned as well. A window washing company in Royal Oak might send out more than one contractor and especially for larger jobs, so that an entire team can disassemble screens, wipe down splashing, and perform all other tasks while the windows are being cleaned. Hiring a contractor no matter the window washing costs in Royal Oak is then worth the expense, as it means a thorough job done faster than if you tried it on your own!